Acne, commonly called pimples, occurs during the acme of life, in other words the best or peak years of life.95% of all people develop some acne between the ages of 15 and 35.It can begin earlier than 15 years of age or last later than 35. Once acne begins, it runs its own course spanning a period 4 to 10 years or more and then pimples will cease to appear.
When you consult a dermatologist, the plan is to treat you till the pimples disappear and then teach you a method of caring for your skin so that acne is kept in check till such time as it ceases to appear on its own.
Pimples are not infectious, do not indicate poor hygiene, impure blood, constipation or ill health. There is no diet for people with acne. Chocolates and colas' may be avoided to save money and also because they are unnecessary from a nutritional point of view. Drinking water in excess of quantities guided by thirst will only keep you looking for a toilet all day, and do precious little for your acne. Excessive and repeated washing with soap will dry out the skin and cause irritation or waterlog the openings of the follicles from which acne arises and make acne worse.3 washes a day, of them 2 with soap or recommended cleanser should be optimum. Moisturisers worsen acne, so do foundations and sunscreens. The fewer things you apply to acne prone skin, the better off you are.
Certain medicines are known to cause or worsen acne, some of these are:
Glucocorticosteroids by mouth
Steroid creams applied locally
Anabolic steroid injections or capsules used by body builders and sportspersons.
Lithium
INH
Phenytoin
What happens within the skin in acne?
Acne arises from hair follicles. Not all follicles produce hair, though they are found all over the body. Terminal or thick dark hair is produced only in certain areas. The other follicles either produce thin pale hair that can be seen with cross lighting as fuzz or invisible hair.
The hair follicle and the sebaceous gland are produced by a down growth of the epidermis .The epidermal cells are constantly produced from the bottom of the epidermis and shed on the skin surface invisibly from where it is washed away while we bathe and clean. Likewise, epidermal cells are shed from the inner lining of the hair follicle, these cells normally separate out from each other and are removed out of the hair follicle along with the growing hair. The sebaceous gland produces an oily substance called sebum that lines the hair and the skin.
In persons with acne, the sebaceous secretion is increased and the sebum is qualitatively different in that it is thick and sticky like cheese. This accounts for the oily skin in persons with acne. The cells that are shed from the inside of the follicle do not separate out from each other as they normally should and they mix up with the sebum and form a plug that prevents the cells and sebum escaping from the follicle .The accumulated products begin to stretch the follicle. At this point in time the pimple feels like a bump in the skin. When the follicle is stretched upwards towards the surface of the skin, the contents may become partially liquefied, creating a white head. Sometimes the top of the filled follicle sheds, followed by oxidization of the remaining contents turning black and giving rise to a black head. There are certain bacteria at the bottom of the hair follicle called P.acnes, these break down the accumulated sebum to free fatty acids. These travel across the of the wall of the follicle and attract white blood cells to the follicle. These white blood cells liberate substances called inflammatory mediators that cause pain redness, heat, swelling and pus.
Squeezing and meddling with pimples causes this to happen more easily. After the pimples clear, damage is left behind in the form of redness, pigmentation [brown spots] and scarring ie holes or pits in the skin.
The treatment of acne is aimed at dissolving the follicular plug, reducing sebum production, removing oiliness, killing the bacteria at the bottom of the hair follicle and blocking the inflammatory mediators produced by the white blood cells. This is done by local applications and sometimes, tablets in addition.
Procedures such as comedo expression for black heads, electrical cautery for hard lesions and cryotherapy [freezing] for large recurrent painful nodules may be resorted to in certain cases.
Though hormones are responsible for the skin changes that predispose to acne, most people with acne do not have abnormally high or abnormal hormones, and a detailed hormone status evaluation is not called for.
The redness left on the skin after pimples heal may be very obvious in fair skinned individuals. It disappears on it s own in 1 to 3 months. Pigmentation too disappears in 3 to 9 months, but can be expedited with certain creams, chemical peels or microdermabrasion. The pits left behind by healed acne may be shallow or deep and seldom disappear spontaneously or completely, though the appearance may improve marginally over the years. Shallow pits can be treated with Dermabrasion surgically or microdermabrasion non surgically. Deep pits can be treated with a variety of surgical techniques depending on the extent and depth of pits.
Acne ( Pimples ) Treatment
Dr. Umashankar's Dermavision® offers special Acne treatments
Chemical peels in acne work by expelling clogged pores, reduce scaring, and killing the bacteria that cause acne eruptions. Various peels are performed according to the condition which needs to be treated.
A series of peels are often necessary along with a Post Peel Care regimen will result in a clear blemish less face. Indications in which peels are done:
1. Acne Vulgaris ( Microcomedones, Inflammatory acne, Greasy oily skin)
2. Acne scars
3.Post Acne pigmentation
Advanced Peels performed at Dr. Umashankar's Dermavision® :
We use Glycolic Acid Peel along with Microderm for optimal results.
Salicylic acid peel for inflammatory acne

IPL treatment for Acne ( Blue Light therapy ) is an advanced treatment option for a most common skin problem. Acne treatment mode is one of the most important function of an IPL. Most commonly used function in my practice is this mode and it gives my patients a new proach to their acne problem. It addresses both acne and pigmentation issues in a single treatment.
410 -420nm Wavelength (nm)
When & Why to do IPL for Acne :
1. Patients not responding to conventional modalities ( Resistance ).
2. Patients fed up of taking antibiotics and are looking for an alternative.
3. Need for a quicker recovery.
Additional benefits of doing IPL in Acne :
1. Post-acne Pigmentation improves along with Acne. The remaining spectrum of an IPL ( 510nm) treats pigmentary changes which is associated with acne.
2. Textural and Skin tone improvement. Activation of fibroblasts cytokine secretion and the resultant stimulation of collagen, elastin, and glycosaminoglycans, by the 560nm – 585nm wavelength yield a simultaneous improvement in skin color and general appearance.
3. The smoother appearance of the skin is due to sebaceous gland shrinkage.
4. Reduction of oiliness of skin.
Acne scars are managed effectively with various procedures like Chemical peels, Dermarollers, Fractional CO2, Microdermabrasion, Subcision, and Punch elevation. Ideal type of procedure will be decided once the dermatologist evaluate the patient.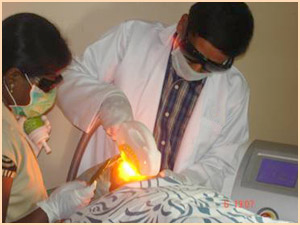 Intense Pulse Light Therapy
Photographs of Acne and Acne scars treated: